Homeschool Help – How to get homeschooling assistance
In recent years, a growing number of parents have been making the decision to take charge of their children's education directly. If you are reading this, you are probably one of them. Especially for stay home parents, it just seems to be the best thing to do when you are unsatisfied with the results you get from regular school. Many parents, however, quit homeschooling simply because it takes a lot to excellently have it all together. In this article, I'll outline how Homeschool Help gives homeschoolers assistance to countless parents. 
Why do some people choose Homeschooling?
As a parent, you may have questions about the ability of the traditional education system to cater to the specific needs, strengths, interests, or talents of your child. Some parents have also spoken about the need for flexibility in terms of extracurricular activities. You may also be concerned about the moral and spiritual foundation that is being built in your child. Maybe you need to address special health challenges your child may be facing. These are a few out of the many reasons parents choose to homeschool and ideally, every parent deserves to choose the most appropriate way to go about their children's education. 
What is Homeschool Help?
Homeschool Help is a homeschool facilitation service here to help you navigate the challenges of homeschooling your child. At Homeschool Help, we understand that parents have a variety of reasons for starting to homeschool. Challenges may arise in juggling professional and domestic concerns with the educational needs of your child. But this should not stop any parent from fulfilling their dream of giving their child the quality education they deserve. We understand that every homeschooling situation is unique and we have all the time to get to understand your situation and tailor a solution to it. We are here to work with you to come up with a plan that is best suited for your child's growth and development and fits your busy schedule.
READ ALSO: Homeschooling in Ghana
How do we help you with Homeschooling?
Homeschool help as the name implies offers help to parents looking to give their children a tailor-made approach to education. Our 4 categories of help are as follows:
Homeschool Curriculum with Weekly Schedule

Homeschool Classroom Setup and Resources.

Homeschool Focus Monitoring 

Homeschool Examination and Cumulative Record Keeping.
Homeschool Curriculum with Weekly Schedule
Under this category of Homeschool Help's activities, we assist you to choose a curriculum that best suits your child's needs. We start this process with an interview that gets us introduced to your child and helps us to understand what will work best for them. We also take into consideration the goal you have in mind or the purpose for which you want to homeschool. If, for instance, you want your child to have a Christ-centered education, we have different curricula we can introduce to you. We also design customized curricula for parents with peculiar goals or special needs children. We just help you get what is best suited to the needs of your child. The most important part of this is where we develop an academic calendar or weekly schedule for you or your child's teacher.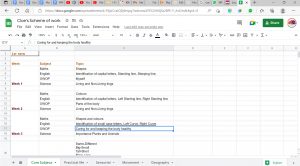 Homeschool Classroom Setup and Resources.
After your curriculum and scheme of work are set, the next step is to select the right teaching and learning materials for your child and their teacher. Procuring textbooks and other teaching and learning materials for the child is another thing we do under this category. Most of the time, parents don't know what to buy and where to get them. We provide you with a list according to the child's level and the curriculum chosen. If need be, we actually do the shopping and deliver to you.
There are online and offline resources that will help enrich your child's homeschooling experience and we have a whole bank full of them. Contact us and let's create an interactive learning environment for your child.
READ ALSO: How to Combine Homeschooling with a busy schedule
Homeschool Focus Monitoring 
We also have a monitoring system for tracking your child's progress each month. We visit the child once a month to ensure they are on track and making progress. Visits are substituted with virtual meetings online when distance is a factor. These meetings can be arranged outside the home to break the monotony and are sometimes done with other homeschoolers for the purpose of socialization.
READ ALSO: 3 reasons for going back to homeschooling
Homeschool Examination and Cumulative Record Keeping.
The most important part of education is evaluation because that's what actually tells you if your child is learning or not. Under this category of Homeschool help, we conduct examinations for your child each term and ensure that their cumulative record is updated after each exam. We also plan interventions to help your child improve in areas of challenge. This aspect of homeschooling is one of the most challenging and it helps to have someone else (an external examiner) set the questions instead of having their teacher set the exam questions. One advantage of letting your children write external exams is the fact that their curriculum or their teacher could have missed a topic in a subject. Even if the student is not able to answer that question, the teacher can browse the topic with them before the school year actually ends. That way, they are exposed to most, if not everything they are to know for their level.
What's better than getting help in an important area of life such as this? Homeschool help is here to help with challenging aspects of homeschooling so that you can focus on the fun part of it. Getting homeschooling assistance is now easier than ever. This service is not only limited to Ghana but to any other region and country since everything can be done virtually. Send us an email or call us to initiate a discussion on how we can help.